Information found at https://kerbalspaceprogram.com/kerbalizer.php
Kerbalizer is a simple software made by Squad, developers of Kerbal Space Program, that allows downloaders to create their own Kerbals.  There are two versions of Kerbalizer currently available to the public: Free and Pro.  Free is a standard software, while Pro is more advanced, but it costs $2.00 USD.  Sadly, you cannot import your kerbals into KSP.
Free Kerbalizer
Edit
In the free version, you can: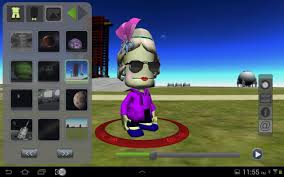 Create your own custom Kerbal.
Dress it up.
Give it hairstyles.
Facial details and accesories.
Rotate the Kerbal to get the best angle.
Share your creation in Facebook, email it or just download.
Pro Kerbalizer
Edit
In the pro version, for $2.00 USD, you can:
Use all of the features in Free Version.
Change the color of most garments and hairstyles.
Use an Animation mixer to get the Kerbal in a pose you like.
Use Different backgrounds to make your creation more lively.
Use More Assets.
Community content is available under
CC-BY-SA
unless otherwise noted.